A Places to visit in Phuket: Flying Hanuman, Phuket's Top Adventure Activity
Looking for an exciting and unforgettable day trip during your stay in Phuket? Look no further, Flying Hanuman a renowned eco-adventure park,offering an exhilarating zipline adventure tour that will have you soaring through the lush rainforest canopies of Phuket Island. With a 20 minute wilderness walk,12 platforms,3 ziplines, 1 skybridge,1 abseil point, and 1 spiral staircase,Flying Hanuman is the ultimate destination for thrill-seekers. This Phuket adventure is a must try for anyone seeking a unique and adrenaline pumping experience in the heart of Phuket's tropical paradise.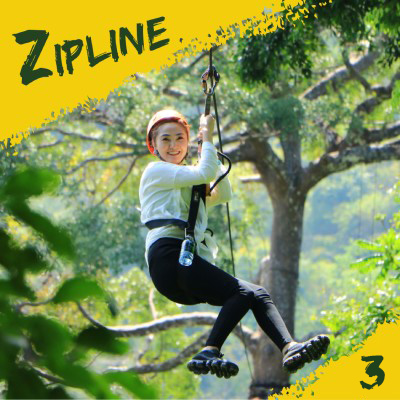 What can you experience on this Eco Adventures Activity?
What to wear on this Eco Adventures Tour?
Equipment & Safety Concern
The equipment used by visitors to Flying Hanuman is made by the French manufacturer, Petzl, and provides the highest standards of safety and comfort. Each piece can carry over 2 tonnes and every guest has a double safety mechanism. You will not have to worry about the quality of your gear at Flying Hanuman.
The most important piece of equipment is your pulley. It is what allows you to zip from one platform to the next and supports your weight during flight. The safety carabiner and lanyard are also very important. These are attached to the safety lines on each platform and also act as a backup attachment when you are on the ziplines in case your pulley fails.
Cancellation will be accepted when it initiated at least 24 hours before the play time.
In case of unintentional cancellation such as accident, fever, the guest needs to providing a medical certificate or related document to get the refund of the purchase.
No show on the pick-up time and no notification in advance will be resulting no refund can be given in any case.
Changing the Play Date or Play Time will be charged 300 baht/person on a pick-up zone and 500 baht/person if out of transfer zone area.
If you purchasing the ticket Not from our website the cancellation policy may be different as it will be depending on the distributor/agent itself.