The Thrills of FH1 Zipline Experience at Flying Hanuman
If you're in search of an exciting adventure in Phuket, look no further than the FH1 zipline course at Flying Hanuman. This exhilarating experience will have you gliding high above the vibrant tropical forests in no time. Whether you're a first-timer or part of a family seeking thrills, the FH1 course is the perfect introduction to ziplining. To begin your journey, you'll strap in and prepare for an unforgettable adventure. With a total of fourteen zipline sections ranging from 100 to 500 meters in length, you'll smoothly navigate through the lush jungle. These transitions provide breathtaking views of the surrounding scenery and what Phuket has to offer.
After you've donned your helmet and secured your harness, it's time to ascend to the first treetop platform. Take that exhilarating leap of faith, propelling yourself through the jungle canopy. With each passing moment, feel the adrenaline surge as you pick up speed, effortlessly gliding high above the towering trees. Moreover, Flying Hanuman ensures your safety is a top priority, so you can focus on the thrill of ziplining. Come and conquer your fear of heights at our amazing thrilling zipline park in Phuket, don't miss this opportunity to tell all of your friends and family that you did something amazing on your vacation, a trip of a lifetime for you to look back on.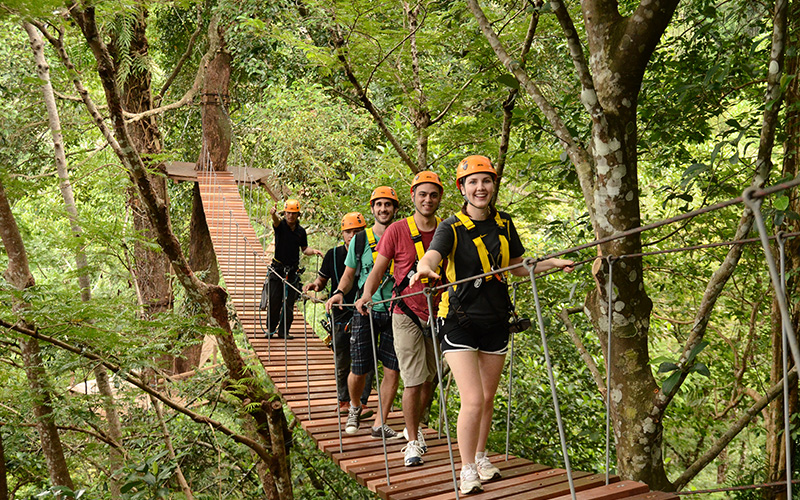 The professionally trained staff and regularly maintained equipment guarantee a secure and memorable experience for adventurers of all levels. With the FH1 zipline course at Flying Hanuman, you're in for an action-packed adventure. It's an ideal introduction to ziplining for those new to the sport and a fantastic family-friendly experience. Don't miss out on this opportunity to witness the beauty of Phuket from a thrilling and unique perspective. Whether you're visiting Phuket solo, as a couple, or with the whole family, the FH1 zipline course offers an unforgettable experience. All ages from young kids to grandparents can enjoy the aerial rides and jungle scenery together.
However, the most exhilarating part of your adventure is still to come in this adrenaline-pumping segment. Here, you'll reach astonishing speeds of up to 60 km per hour, guaranteeing an absolutely unforgettable zipline thrill. As you soar at this incredible velocity, you'll gain a perspective akin to that of a monkey, enabling you to survey the awe-inspiring Phuket landscape from your elevated vantage point. Your journey toward the endpoint is a swift and thrilling experience that promises to etch the natural beauty of Phuket deep into your memory. This unique encounter with the jungle from such heights offers a perspective that few get to experience and will leave you with lasting impressions of this remarkable adventure.
Elevate your Phuket adventure to extraordinary heights and discover one of the most exhilarating things to do on the island – the Flying Hanuman zipline experience. Specifically, we'll take you through the FH1 course, which provides a unique perspective of the lush tropical forests, making it a top "things-to-do" adventure in Phuket you don't want to miss. As you cross off this zipline adventure from your bucket list, you'll be left with unforgettable memories of your time soaring above the Phuket rainforest. It's an experience that combines the thrill of ziplining with the natural beauty of the jungle, making it an adventure that truly stands out among the many things to do in Phuket. Don't miss out on this epic thrill of adventure in Thailand's lush green jungle amongst nature and the Andaman Sea.